Exclusive Interview with Jitsu Gaiden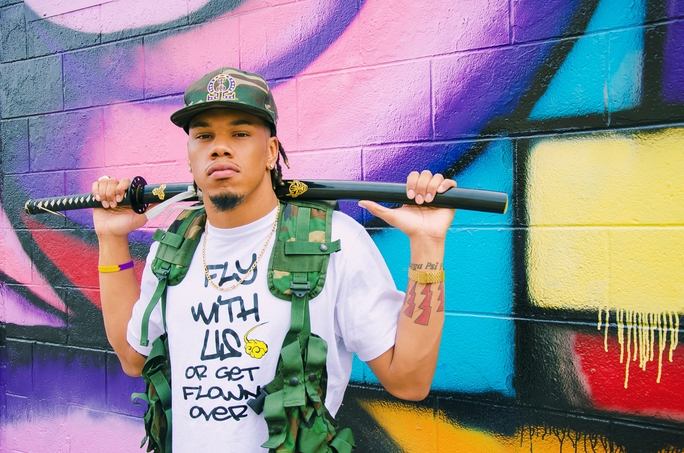 "Evolution is key. As a young artist, it is important to keep giving new hot music for the listeners."
1. How long have you been in the music industry and has music always been a part of your life?
I've been striving for the music industry for almost three years now. I have always had an ear for music, but now I have a passion for it.
2. Was there a specific moment in your life where you thought, "music is what I want to do"?
The special moment was when I opened up for Riff Raff and I had people cheering me on and girls grabbing for me on stage. Thus, to see my music having a positive effect on people, really let me know that music is what I want to do.
3. What inspires you (or your music)?
Life inspires me, all the adventures and experiences that come with the game.
4. Who's on your iTunes playlist?'
Wiz Khalifa, Ty Dolla $ign, Juicy J, Eazy E, Snoop Dawg, Devin the Dude, Future, Waka Flocka, Trey Songz, Rae Sremmurd, Starlito etc….
5. The project you are currently promoting, how did the idea for it come about?
My single "Rolling Stone", the song is based off past relationships I have had. It demonstrates the struggle I go through as an artist that wants to make it big, but also juggling the time and emotions of a relationship.
6. There are thousands of artists trying to do what you are doing, what do you think gives you an advantage to break into mainstream America?
My energy is on a whole other level. I might be a rapper, but when I'm on stage I feel like a rock star!
7. I've heard your latest music and it's amazing! I can definitely tell your sound has evolved over the past few years from previous songs we've heard from you online. What are your thoughts on the evolution of an artist and the evolution of music today?
Evolution is key. As a young artist, it is important to keep giving new hot music for the listeners. You also must lift as you climb, so as your skills are evolving, you should help the guys coming underneath you and teach them how to make moves within the industry.
8. Do you have other passions in life? Do you believe passion is an essential part of success?
I'm passionate about my brand "Frequent Flyers Lifestyle" and what I am building. Every day the squad grows stronger and stronger. And yes passion is the key, because you will give your all for something you care about.
9. With your current success and working with a renowned PR firm such as Starlight PR, what advice would you give to someone just starting out in his or her career who doesn't even have a studio to record but would love to do what you are doing now?
First, find a studio to record in and make sure your music quality is the best! Invest in yourself and have a good product to sell to your fans. Put together a single with a video and then push a project behind it. But also you must persevere, because there will be ups and downs to come along the journey. You must see it through, if you want to be one of the greatest.
10. Where can potential fans find out more about you?
Visit my website @ www.Jitsugaiden.net Aiyaaa!
UPCOMING 100
01

Swalla

Jason Derulo Featuring Nicki Minaj & Ty Dolla $ign

02

Chained to the Rhythm

Katy Perry

03

04

05