Exclusive Interview with Adam Wise x Jaz Flow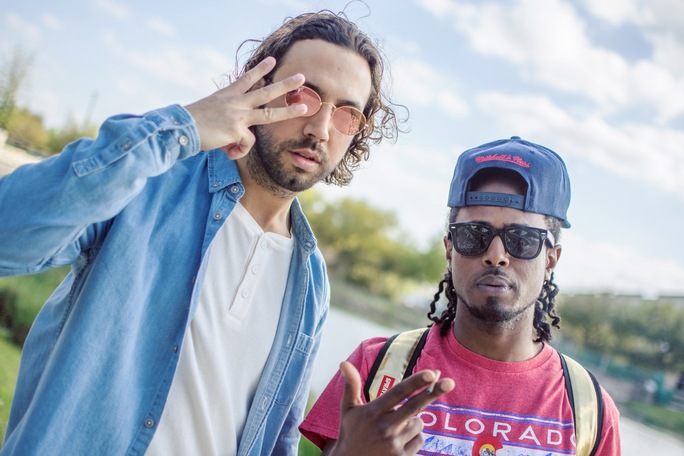 An exclusive interview with Adam Wise x Jaz Flow
Upcoming 100: How long have you been in the music industry and has music always been a part of your life?
Adam Wise: We opened an indie label in 2013 but I have been creating music for over 10 years now. At a very young age, I was writing short stories and poetry.
Jaz Flow: I've been creatively making music for at lwast 10 years plus. Music has always been a part of my life since I was very young.
Upcoming 100: Was there a specific moment in your life where you thought, "music is what I want to do?"
Adam Wise: Through 5th and 6th grade, I fell in love with hip hop from Eminem and Lil Wayne to Outkast and Black Star. We would freestyle at recess and the bus stop before school. I was obsessed with music from that point even joining the band for some years.
Jaz Flow: Music is my calling so it's more so an instinct to me, like breathing, so a tought never ocurred. Only action.
Upcoming 100: What inspires you (or your music)?
Adam Wise: Pasison. The possibilities inside my imagination inspires me to want to be great. I love the world and find my greatest inspiration in wanting to create a better world for people to exist on.
Jaz Flow: Being able to have the gift on inspiration. My music inspires people to do great things.
Upcoming 100: Who's on your iTunes playlist?
Adam Wise: FROM THE 3. Also, I rarely listen to rap music on my personal time.
Jaz Flow: 2Chainz, Chance, Kendrick, Lupe, Nipsey, Wayne, Nas and a few others.
Upcoming 100: The project you are currently promoting, how did the idea for it come about?
Ada Wise: Magic. all pur ideas and energy come from the atmosphere and that's where 'From The 3' was manifested.The 3 is basically a world we created that invites people to express themselves freely and break down the barriers of labels.
Jaz Flow: The idea came about by being in the studio always experimenting and trying new things that set us apart from the others.
Upcoming 100: There are thousands of artists trying to do wht you are doing, what do you think gives you an advantage to break into mainstream America?
Adam Wise: Our advantage is there are not thousands of artists doing what we do. You must out work all competitors.
Jaz Flow: My advantage is that I'm able to be versatile and I can recreate myself at any given moment, stayong relevant is key.
Upcoming 100: I've heard your latest music and it's amazing! I can definitely tell your sound has evolved over the past few years from previous songs we've heard from you online. What are your thoughts on the evolution of an artist and the evolution of music today?
Adam Wise: At this point in my career, I feel capable of creating almost any form of music. ALL ARTISTS ARE SUPPOSED TO EVOLVE WITH THE WORLD AROUND THEM. And I think hip hop has evolved into the biggest influencing 'cool' on the planet.
Jaz Flow: If the person evolves, then he will evolve as an artist as well. The way music is evolving today is the same as man, it's becoming very diversified and more intelligent.
Upcoming 100: Do you have other passions in life? Do you believe passion is an essential part of success?
Adam Wise: I am an extremely passionate person in everything I do. And yes, passion is what drives success and great accomplishments.
Jaz Flow: My other passion in life is to travel with family and meet new people. You have to put your heart into anything you do because that is the only way it'll truly mean something.
Upcoming 100: With your current success and working with a new renowned PR firm such as Starlight PR, what advice would you give to someone just starting out in his or her career who doesn't even have a studio to record but would love to do what you are doing now?
Adam Wise: My advice is I was where you are. It took me a decade to become who I envisioned. NOBODY WILL BELIEVE IN YOU LIKE YOU WILL. Put action behind your dreams.
Jaz Flow: My advice to a fellow artist who just starting out to venture into music would be to always outwork yourself and always create. If you don't have studio, invest in a home studio to sharpen you artistry in the comfort of your own environment of choice. Preparation is key. Own all your publishing and masters meaning create a publishing company and also be affiliated with ASCAP/BMI.
Upcoming 100: Where can potential fans find out more about you?
Adam Wise: @adamwise_ on Instagram and Twitter. WISEPEOPLE.COM has all the videos and music. Music is available on all major media platforms for purchase or streaming.
Jaz Flow: Google me.
UPCOMING 100
01

Swalla

Jason Derulo Featuring Nicki Minaj & Ty Dolla $ign

02

Chained to the Rhythm

Katy Perry

03

04

05