Exclusive Interview with Joanna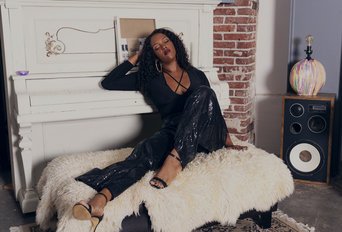 An axclusive interview with Joanna.
Upcoming 100: How long have you been in the music industry and has music always been a part of your life?
Jonna: I recorded my first demo when I was 12 years old and even though I've taken a few years break in between, music has been a huge part of my life since then.
Upcoming 100: Was there a specific moment in your life where you thought, "music is what I want to do"?
Jonna: I took a break from pursuing a music career for ten years and it was only a year ago that I realized this is really what I need to be doing with my life. I unintentionally wrote my song "Deeper" when I was going through some things and it was only when I was recording it that it registered – This is where I'm supposed to be.
Upcoming 100: What inspires you (or your music)?
Jonna: I'm a very emotional person so it really doesn't take much!
Upcoming 100: Who's on your iTunes playlist?'
Jonna: Ella Mai, Jazmine Sullivan, Wretch 32, Giggs, Wiley, Sabrina Claudio, H.E.R
Upcoming 100: The project you are currently promoting, how did the idea for it come about?
Jonna: All it took was a bottle of wine and a man that didn't truly know what he wanted. The songs wrote themselves after that!
Upcoming 100: There are thousands of artists trying to do what you are doing, what do you think gives you an advantage to break into mainstream America?
Jonna: As artists, all we can be is ourselves and telling our personal stories is a way to connect with our audience. My story is not the same as most and I hope that when people hear my music they want to hear more.
Upcoming 100: I've heard your latest music and it's amazing! I can definitely tell your sound has evolved over the past few years from previous songs we've heard from you online. What are your thoughts on the evolution of an artist and the evolution of music today?
Jonna: When we evolve as humans, we naturally evolve as artists. I've done a lot of self-development work this year and the more I learnt about myself, the more it changed my artistry.
Upcoming 100: Do you have other passions in life? Do you believe passion is an essential part of success?
Jonna: Passion is everything! It's what keeps us alive and vibrant. I love performing and being creative in so many ways other than music. I've written scripts, performed in improv and sketch comedy troupes for years, I've also performed as a burlesque dancer and recently started Pole. Any way that I can express myself creatively is a bonus for me.
Upcoming 100: With your current success and working with a renowned PR firm such as Starlight PR, What advice would you give to someone just starting out in his or her career who doesn't even have a studio to record but would love to do what you are doing now?
Jonna: Believe in yourself, continue to push yourself, and find any way that you can learn and grow in your field from others doing it. Garage band is a great starting block if you don't have any other recording software but seriously, this is the age of D.I.Y. All you need is belief and determination.
Upcoming 100: Where can potential fans find out more about you?
Jonna: Instagram is the best place to find me right now @soundslikejoanna_
UPCOMING 100
01

Swalla

Jason Derulo Featuring Nicki Minaj & Ty Dolla $ign

02

Chained to the Rhythm

Katy Perry

03

04

05