Exclusive Interview with Goddess Venus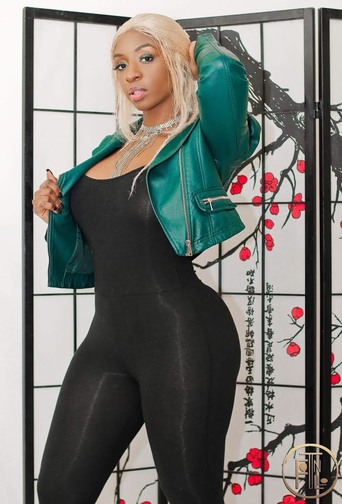 An exclusive interview with Goddess Venus.
Upcoming100: How long have you been in the music industry and has music always been a part of your life?
Goddess Venus: I've been actively pursuing music for about a year now, but I fell in love with hip hop when I was about 14 years old.
Upcoming100: Was there a specific moment in your life where you thought, "music is what I want to do"?
Goddess Venus: Last year was when it hit me that I have the talent for music, but I was wasting it by not putting it to use.
Upcoming100: What inspires you (or your music)?
Goddess Venus: I am inspired by different things, sometimes things that's going on in my life, sometimes a song or sometimes a beat just speaks to me. Anyone who writes music understands what I am saying.
Upcoming100: Who's on your iTunes playlist?'
Goddess Venus: First and foremost, me, Lil Baby, A Boogie, Ella Mae, Drake
Upcoming100: The project you are currently promoting, how did the idea for it come about?
Goddess Venus: Scrappy's manager reached out to me and told me that he was interested in doing a song. So he then reached out to the producer Mostai Christ and the rest was history. I wanted to give people something that they could bounce to, but still had a message and I think I accomplished that with this record.
Upcoming100: There are thousands of artists trying to do what you are doing, what do you think gives you an advantage to break into mainstream America?
Goddess Venus: That's a good question. First off, I would like to say that yes, there are thousands of people out there trying to make it, but I think that with the way that music is handled through social media, it allows thousands of people to get on at once. My sound, which is lyrical, has a bounce that makes me stand out. The constant change in my look makes me stand out and my performances can compete with main stream artists that are out right now.
Upcoming100: I've heard your latest music and it's amazing! I can definitely tell your sound has evolved over the past few years from previous songs we've heard from you online. What are your thoughts on the evolution of an artist and the evolution of music today?
Goddess Venus: I've been out for one year and I think my music has grown in that one year. I have a deeper understanding of music and I have a deeper understanding of the business. Evolution is inevitable. Time and people change and I learned that's what's in now, may not always be in, so you have to learn how to change with the time, so you don't become outdated. But you have to still remain authentic to yourself.
Upcoming100: Do you have other passions in life? Do you believe passion is an essential part of success?
Goddess Venus: Yes, I have a passion for acting and yes passion is definitely an essential part of success because who wants to wake up every day and do something that they don't like or are not happy with?
Upcoming100: With your current success and working with a renowned PR firm such as Starlight PR, What advice would you give to someone just starting out in his or her career who doesn't even have a studio to record but would love to do what you are doing now?
Goddess Venus: Learn the ins and outs of the business first. Find out the financial aspect of the business first because the business will get you further than the talent. By learning the business first, I got to where I'm at currently in one year, rather than taking me 5 years to get to this point like it has taken others.
Upcoming100: Where can potential fans find out more about you
Goddess Venus: They can find me on my:
Instagram: @Goddess_Venus_
Facebook: GoddessVenus247
Website: http://www.GoddessVenusMusic.com
UPCOMING 100
01

Swalla

Jason Derulo Featuring Nicki Minaj & Ty Dolla $ign

02

Chained to the Rhythm

Katy Perry

03

04

05