Exclusive Interview with Lil Poots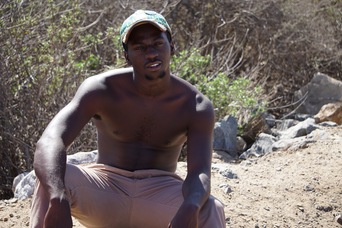 An exclusive interview with Lil Poots.
Upcoming 100: How long have you been in the music industry and has music always been a part of your life?
Lil Poots: I've personally been in the music industry as an artist for about 5 months and yes music has always been a part of my life. In a previous interview I gave props to my granny, I can always find her playing the piano and singing when I go to her house. I was also in the choir at church (my granny was a pianist) as a kid or listening to several genres of music at home. Even as an adult going to parties with homeboys.
Upcoming 100: Was there a specific moment in your life where you thought, "music is what I want to do"?
Lil Poots: Yes, a year or so ago I was just freestyling with a few homeboys and I loved it. It felt natural and it came pretty easy for me to do. I thought to myself that music is what I wanted to do but kept it to myself like most of my thoughts.
Upcoming 100: What inspires you (or your music)?
Lil Poots: Situations in life that I've had to deal with and go through. Also, obstacles I've had to face inspires my music. Music gives me an outlet and the more hyped the music sometimes the calmer I feel, lol!
Upcoming 100: Who's on your iTunes playlist?'
Lil Poots: Quando, Young boy and Young Nudy are on my playlist.
Upcoming 100: There are thousands of artists trying to do what you are doing, what do you think gives you an advantage to break into mainstream America?
Lil Poots: I feel like a lot of artists are trying to copy and mimic other artists' style that's mainstream. An advantage for me is I do my own thing, my way. I have my own unique wave, style and flow. The fact that I'm completely self-taught and solo for now gives me the opportunity to get into my homemade studio and go all out. With my music getting this level of exposure to mainstream will definitely help also.
Upcoming 100: I've heard your latest music and it's amazing! I can definitely tell your sound has evolved over the past few years from previous songs we've heard from you online. What are your thoughts on the evolution of an artist and the evolution of music today?
Lil Poots: I feel the music world is always evolving so I have to evolve and elevate my music to stay relevant and keep up my fans attention.
Upcoming 100: Do you have other passions in life? Do you believe passion is an essential part of success?
Lil Poots: Another passion of mine is playing basketball. Yes, passion is most definitely essential. If you don't have passion for what you're doing you won't give it 100%.
Upcoming 100: With your current success and working with a renowned PR firm such as Starlight PR, What advice would you give to someone just starting out in his or her career who doesn't even have a studio to record but would love to do what you are doing now?
Lil Poots: Take small steps, learn how to do it yourself. If you can't afford studio time, get your own basic studio equipment. If you can't afford basic studio equipment, record yourself with your cell phone in the mirror. Where there is passion there is a way. Once you learn something no one can take that knowledge away from you and that's a good feeling. Of course once you get your music together contact Starlight PR for your press releases!
Upcoming 100: Where can potential fans find out more about you?
Lil Poots: Fans can find more about me using the link on my Instagram page @lilpoots. They can check out my music on SoundCloud @Lilpoots_
UPCOMING 100
01

Swalla

Jason Derulo Featuring Nicki Minaj & Ty Dolla $ign

02

Chained to the Rhythm

Katy Perry

03

04

05