Exclusive Interview with Sire Castro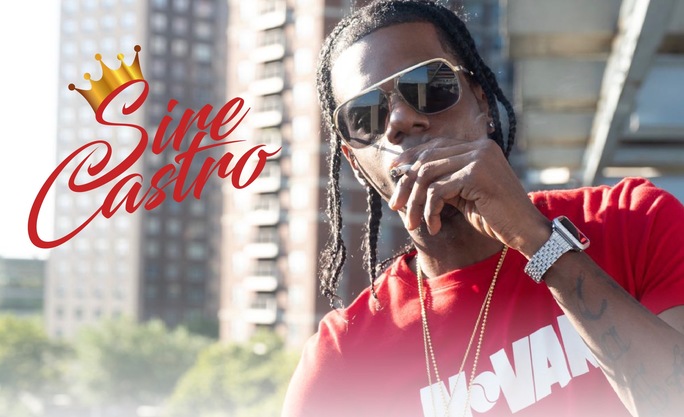 An exclusive interview with Sire Castro.
Upcoming 100: How long have you been in the music industry and has music always been a part of your life?
Sire Castro: I've been in the game since early 2000. I've been rapping since I was a kid and music was always in my life considering my pops was a local DJ back in the days, since early childhood.

Upcoming 100: Was there a specific moment in your life where you thought, "music is what I want to do"?
Sire Castro: Yes! I watched a movie called "Krush Groove" and I knew music is what I wanted to do after witnessing what was on the screen. Life changing for me...
Upcoming 100: What inspires you (or your music)?
Sire Castro: My daughters inspire me to wanna do so much more for them. Money inspires me to never stop until I have it. Seeing the success of my idols inspire me to someday be standing right there next to them.
Upcoming 100: Who's on your iTunes playlist?
Sire Castro: JAY Z, Biggie, 50 Cent, Nas, Jadakiss... I'm stuck on lyricism.
Upcoming 100: The project you are currently promoting, how did the idea for it come about?
Sire Castro: Right now, I'm currently promoting the single "My Vest". The idea was to break into the industry with a street anthem inspired by a HipHop & R&B hit single from the old days.
Upcoming 100: There are thousands of artists trying to do what you are doing, what do you think gives you an advantage to break into mainstream America?
Sire Castro: MY BARS! I can get the attention of the Industry moguls who'll appreciate real rap like the Jay Z's, The 50 Cents, & the Steve Stouts who are all executives in the game.
Upcoming 100: I've heard your latest music and it's amazing! I can definitely tell your sound has evolved over the past few years from previous songs we've heard from you online. What are your thoughts on the evolution of an artist and the evolution of music today?
Sire Castro: I think it's important for an artist to evolve with the times but stay relevant at the same time (if that makes sense). An artist who managed to stay in his or her own lane & still hot today is so dope to me. As far as music evolution, it has definitely shifted, not for the worse but it's time to bring real rap back. I GOT THIS!

Upcoming 100: Do you have other passions in life? Do you believe passion is an essential part of success?
Sire Castro: Music is my only passion & yes it's an essential part of success. Without the passion, there is no drive. No Passion + No Drive = No Success. That's not me!
Upcoming 100: With your current success and working with a renowned PR firm such as Starlight PR, What advice would you give to someone just starting out in his or her career who doesn't even have a studio to record but would love to do what you are doing now?
Sire Castro: I'd tell 'em to grind & don't stop grinding. Find a studio in a basement or anywhere near or far from your hood, hustle anyway you can to pay the little it cost, work on your craft continuously & never stop until your music is out there.
Upcoming 100: Where can potential fans find out more about you?
Sire Castro: Hit me up on social media.
http://www.twitter.com/sirecastromusic
http://www.instagram.com/sirecastromusic
http://www.facebook.com/sircastromusic
https://soundcloud.com/sirecastromusic
https://sirecastromusic.bandcamp.com/releases
UPCOMING 100
01

Swalla

Jason Derulo Featuring Nicki Minaj & Ty Dolla $ign

02

Chained to the Rhythm

Katy Perry

03

04

05