Exclusive Interview with Danielle Nichole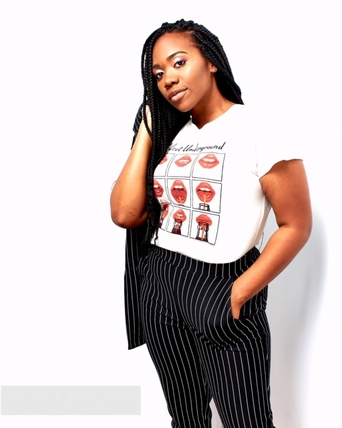 An exclusive interview with Danielle Nichole.
Upcoming 100: How long have you been in the music industry and has music always been a part of your life?
Danielle Nichole: I'm just breaking into the music industry to be honest. I'm excited for the journey and to see what God has in store for me. Music has always been a part of my life ever since I started singing in church. I always enjoyed singing, my mom always had gospel music playing in the house and I would just sing along. I know my voice is bigger than me… all I wanna do is share my gift while doing what I love at the same time.
Upcoming 100: Was there a specific moment in your life where you thought, "music is what I want to do"?
Danielle Nichole: Yes, as soon as I went to my first college and it wasn't for music, I didn't sing for a whole year and I felt funny and it felt like something was missing. That's when I went ahead and auditioned for Berklee College of Music and I was ecstatic that I even got in. There's nothing more that I want to do than to be on stage singing and making my fans and even strangers feel something through my music.
Upcoming 100: What inspires you (or your music)?
Danielle Nichole: What inspires me and my team is real life events that go on in my life and in my friends' lives, or just an emotion that I'm going through and I want to get it out of my system. Then I just write it all down and turn it into a song.
Upcoming 100: Who's on your iTunes playlist?'
Danielle Nichole: Right now I'm listening to H.E.R, Ella Mai, of course Beyoncé, Ariana Grande, Lucky Daye, and a lot more.
Upcoming 100: The album you are currently promoting, "Sentiment", how did the idea for it come about?
Danielle Nichole: Honestly, "Sentiment" came about because I wanted to get all my emotions out but I didn't know how to really say all of it. So that's when my team came into play and we started writing the stories I would tell them and the stories they had of their own. Every track title on "Sentiment" is a strong feeling, so we came up with it:
https://listen.tidal.com/album/102470973
https://open.spotify.com/artist/1mNNYjXlENIz7oPERSBpxl?si=U7FS4AcyQrOKreLx-rAzTw
Upcoming 100: There are thousands of artists trying to do what you are doing, what do you think gives you an advantage to break into mainstream America?
Danielle Nichole: Honestly, my bubbly and genuine personality keeps people around… I believe. My parents were having a hard time when my mom was pregnant with me, so my Dad prayed for me to be a joy and I believe his prayer was answered. That's why I know my voice is bigger than me, and I have a job to do.
Upcoming 100: We listened to your single, "N.O Boundaries", and it's amazing! We can definitely appreciate your sound and the brilliance of your voice. What steps are you taking to preserve and improve your singing style? What are your best practices?
Danielle Nichole: I'm working on songwriting, taking it day by day so I can get better. Singing every chance I can get, so I can get more comfortable on stage, so I can give y'all a great performance. If you want to get better at your craft or even anything at all, you have to do it every day, to see your progress. It's not easy, but it's worth it.
Upcoming 100: Do you have other passions in life? Do you believe passion is an essential part of success?
Danielle Nichole: I love to make people happy, I hate seeing people or my family or friends down. So I always try to be a light in a dark time. I also love children and animals. I probably would have been a veterinarian or possibly a pediatrician. Yes, I do believe that passion is a huge part in having success. When times get rough in what you love to do, you have to have that passion to keep you driven or the hard times will always keep you down.
Upcoming 100: Working with a renowned PR firm such as Starlight PR and the level of success you have achieved so far, what advice would you give to someone just starting out in his or her career who doesn't even have a studio to record but would love to do what you are doing now?
Danielle Nichole: I would say to never give up, even when your mind tells you that you're not enough, or if your peers try and tell you that you aren't good enough for this industry. You know deep down inside that this is what you're supposed to do, and that feeling just won't go away. Don't let it go away. I say to hold onto that feeling because, that's the drive that's going to keep you going because you know that it's your destiny to do.
Upcoming 100: Where can potential fans find out more about you?
Danielle Nichole: They can find more about me on Instagram (danielle___nichole) thats 3 underscores, and on Twitter (@dannicholemusic).
UPCOMING 100
01

Swalla

Jason Derulo Featuring Nicki Minaj & Ty Dolla $ign

02

Chained to the Rhythm

Katy Perry

03

04

05