Taylor Swift Appears in Court for Jury Selection on Day 1 of Groping Trial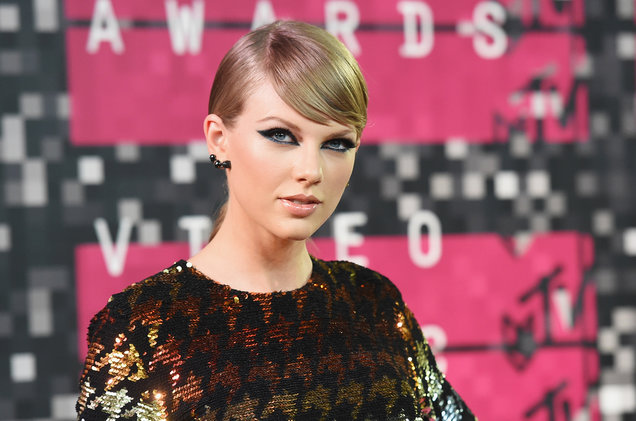 Taylor Swift appeared in a Denver courtroom for the first time Monday afternoon (Aug. 7), sitting at a table that happened to put her face-to-face with the former country-radio DJ she accuses of "improperly and inappropriately groping" her before a June 2013 concert.
Swift sat without speaking for more than four hours in U.S. District Court during jury selection, a defendant in a defamation case, although she clearly believes herself to be the victim. "I remember being frantic, distressed, feeling violated in a way I had never experienced before," Swift said in a 2016 deposition.
The pop megastar, 27, said in court documents that David Mueller "lifted Ms. Swift's skirt with his hand and groped her bottom" while both were posing for a backstage photo during a pre-show meet-and-greet. KYGO, the country station where Mueller worked as a morning-show host with the nickname "Jackson," fired him two days later. Mueller sued for defamation in 2015, insisting "no inappropriate contact of any kind occurred between him and Ms. Swift" and that he lost his job, which paid $150,000 annually, as a result of her accusations. In court documents, he identified a former boss as the man who put his hands on the singer's "bottom" -- a detail Swift denied in court documents.
Swift countersued for assault and battery. "It was not an accident, it was completely intentional and I have never been so sure of anything in my life," she said.
The trial, expected to last nine days, opened Monday with the downtown Alfred A. Arraj courthouse prepped for a media circus. Large black-and-white signs and metal fences directed reporters from CNN, Inside Edition and all the major networks, as well as members of the public, through various lines, although no fans materialized on an unusually cold and rainy day immediately before the trial. (The New York Times found one fan outside the courthouse earlier in the day who declared: "I think she's really brave for speaking up about sexual assault.")
Swift, wearing a dark coat over a white dress, did not speak as the opposing attorneys grappled over which jurors should serve on the eight-person panel starting Tuesday. Attorneys pressed the 16 potential jurors on whether they're fans of Swift ("I don't follow her," one woman said) or KYGO ("It's not my type of music," said a man).
Another man told the court he had seen a widely circulated photo that could potentially be Mueller with his hand behind Swift's back at the time of the incident but argued it would not influence his opinion. The image "suggested the possibility" of "inappropriate touching," the man said, although he wondered if websites and media reports manipulated it to look like groping. Judge William J. Martinez, who had granted Swift's request to seal all such photos last fall, removed the man from consideration.
After the first courtroom break, Mueller, wearing a dark suit, conspicuously took a different seat at the table near his attorney. This time, he faced away from Swift.