U2's 'Songs of Experience' Heading for No. 1 on Billboard 200 Albums Chart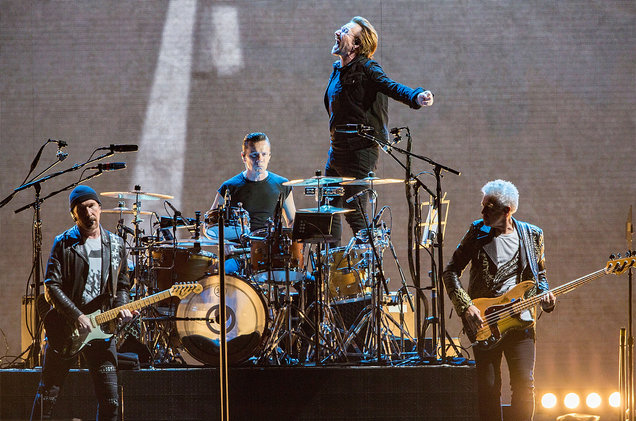 U2 is on track for its eighth No. 1 album on the Billboard 200 chart with the rock band's latest release, Songs of Experience.
Industry forecasters suggest the effort -- which was released on Dec. 1 through Interscope Records -- could earn over 170,000 equivalent album units in the week ending Dec. 7.
The Billboard 200 chart ranks the most popular albums of the week based on multi-metric consumption, which includes traditional album sales, track equivalent albums (TEA) and streaming equivalent albums (SEA). The top 10 of the new Dec. 23-dated Billboard 200 chart (where U2 could bow at No. 1) is scheduled to be revealed on Billboard's websites on Sunday, Dec. 10.
Songs of Experience is a companion album to the band's last studio effort, 2014's Songs of Innocence. The latter title was initially released as a free download exclusively through Apple's iTunes program on Sept. 9, 2014, but was not eligible to chart until it was commercially released on Oct. 14. In its first tracking week of sales, it sold 28,000 copies, and debuted and peaked at No. 9 on the Billboard 200.
U2 last topped the Billboard 200 with 2009's No Line on the Horizon, which bowed with 484,000 copies sold in its first week, according to Nielsen Music. (The Billboard 200 transitioned to a consumption units-ranked tally in late 2014.)
In total, U2 has led the Billboard 200 with: No Line on the Horizon, How to Dismantle an Atomic Bomb (2004), Pop (1997), Zooropa (1993), Achtung Baby (1991), the Rattle and Hum soundtrack (1988) and The Joshua Tree (1987).
Also on tap for a sizable debut on next week's Billboard 200 is Chris Stapleton's From A Room: Volume 2. The country singer's new album could launch in the top three of the list with over 125,000 units. It's a sequel to From A Room: Volume 1, which debuted and peaked at No. 2 earlier in 2017 with 219,000 units.