Olympic Figure Skaters Perform to Ed Sheeran, 'Wonderwall' & More Pop Songs After Rule Change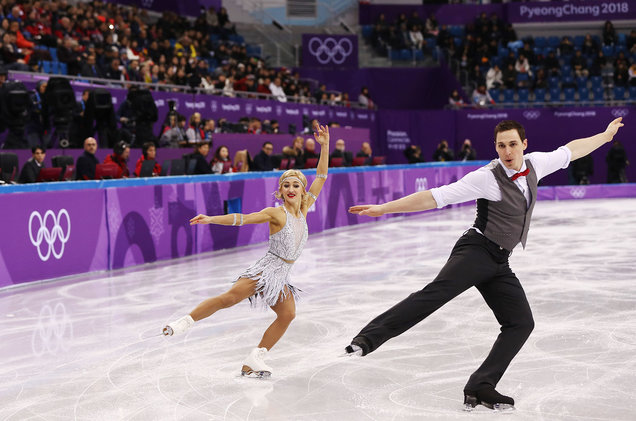 For the first time ever, Olympic figure skaters are allowed perform to music with lyrics at the Winter Games in Pyeongchang, South Korea, due to a recent rule change.
Traditionally, skaters were only allowed to perform to instrumental versions of songs during their routines, i.e. classical or jazz music.
The International Skating Union adoptedthis new rule in order to appeal to a younger audience, and when the skating competition began on Thursday night, social media definitely took notice -- especially when German skater Paul Fentz performed to Paul Anka's jazzy take on Oasis' "Wonderwall."

Meanwhile, Eric Radford of Canada, along with his partner Meagan Duhamel, skated to a cover of U2's "With or Without You." In an interview, Radford said the song "resonated so strongly with what we were going through."
"I think that bringing this different dimension kind of opens doors for skaters that weren't there before," Radford said. "It's probably one of the most important decisions you'll make as a skater," he said.
In light of this new rule, skaters have incorporated music of all genres into their routines, including, R&B, folk, rock 'n' roll and pop (and some have stuck with the classical). Take a look at some of the songs used Friday (Feb. 9) during the 2018 Olympics figure skating/ice dancing performances.
MEN'S SINGLES
Germany's Paul Fentz: Paul Anka, "Wonderwall"
Although Fentz fell twice, he stole the show on social media after viewers took notice of his song choice.
USA's Nathan Chen: Benjamin Clementine, "Nemesis"
Japan's Shoma Uno: "Winter"
Israel's Alexei ByChenko: "Hava Nagila"
Canada's Patrick Chan: Kansas, "Dust in the Wind"
Korea's Cha Jun-hwan: "Gypsy Dance" from Don Quixote
China's Yan Han: Christina Perri, "A Thousand Years"
PAIRS
Japan's Miu Suzaki and Ryuichi Kihara: Yuri on Ice
China's Yu Xiaoyu and Zhang Hao: "Swan Lake"
France's Vanessa James and Morgan Ciprès: Ed Sheeran's "Make it Rain"
Canada's Meagan Duhamel and Eric Radford: April Meservy, "With or Without You"