Paul Anka's Collaboration With Drake Is Coming in June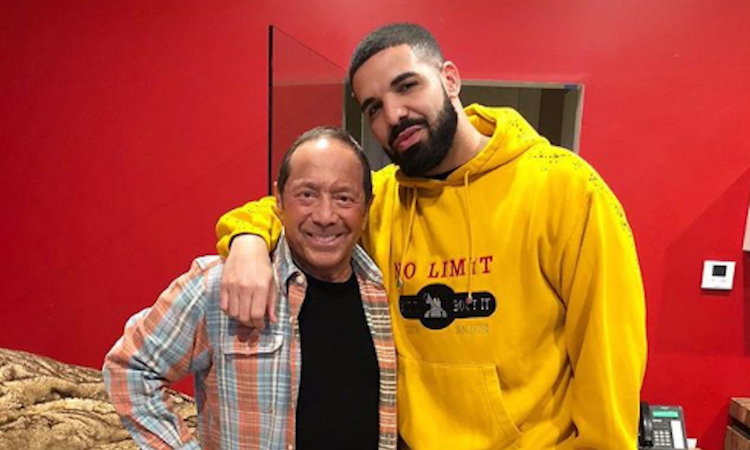 A collaboration between Paul Anka and Drake is set to drop in June.
Anka shared the news onstage on Thursday at the Canadian Music and Broadcast Industry Awards, where he accepted the Lifetime Achievement Award from his friend and fellow Canadian Michael Bublé.
Anka first revealed that he was working with Drake back in February, when the 76-year-old took to Instagram to share a picture of the two and wrote, "One of the great nights...lots to follow! Love working with Drake."
He divulged more details during his acceptance speech. "I'm working with a brilliant young artist who is as hot as you can get right now, a fellow young Canadian and his name is Drake. We recorded something that will be released, out in June. That's all I can tell you," Anka said.
According to Billboard, Bublé also shared his knowledge about the collaboration, saying, "As well as I know Paul, you will never get used to Paul Anka calling you and saying [imitates showbiz voice], 'Oh my god, that Drake got some phat beats. Honestly. This dude's flow is terribly sick.'—and I'm not joking. That is real."
Anka's storied career began when he was 15 and wrote his first No. 1 hit "Diana." He then went on to write a number of classics, like, "My Way," "Puppy Love," "Lonely Boy," "Put Your Head On My Shoulder," "She's a Lady," "(You're) Having My Baby," and The Tonight Show Starring Johnny Carson theme song. Anka also co-wrote the 2009 Michael Jackson song "This Is It."
Drake's Scorpion is scheduled for a June release, so unless Anka has a project up his sleeve for next month, it seems to be a good bet this collaboration will land on Drizzy's next album.