HBO's 'Hard Knocks' Captures Jarvis Landry Light a Spark into Cleveland Browns Teammates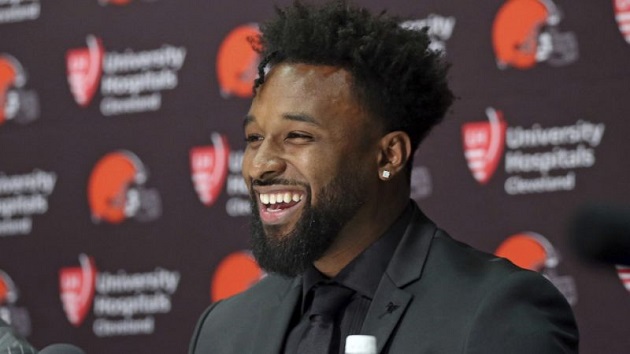 HBO's reality documentary series Hard Knocks has long given insight into the preparation of a long NFL season through the training camps and practices of a franchise.
This year's team of choice was the Cleveland Browns, who are currently in the middle of a rebrand as they are attempting to elevate from a winless season. The team has brought in veterans Tyrod Taylor, rookies Baker Mayfield, and Nick Chubb, but the largest impact is coming from standout wide receiver Jarvis Landry.
The former Miami Dolphins made it to Cleveland after an offseason trade and in the first episode has dazzled team personnel, fans on the sidelines, teammates and more with his impressive work ethic, spectacular catches, and seemingly unstoppable skill set. What Hard Knocks provided fans was a look behind the scenes where he shows the heart he was toward success and drills his fellow wideouts to match his intensity.
"I don't know what the fuck's been going on here, and I don't know why it's been going on here, but if you not hurt—if your hamstring ain't falling off the fucking bone, your leg ain't broke—you should be fucking practicing. Straight up. That shit is weakness, and that shit is contagious as fuck," Landry said to his teammates in a passionate rant.
"That shit been here in the past, and that's why the past has been like it is. That shit is over with, bro. Ain't nobody going to get better by being on the fucking sideline if you ain't fucking hurt."
The Browns are an intriguing team to watch this year. After years of mediocrity, it appears they have the talent that could land them into playoff contention by a potential wild card berth. At the bare minimum, they can win a couple games.
Landry brings in the success of a nearly 1,000-yard season and will be part of what could be the most talented wide receiver duo in the league with Josh Gordon. With Tyrod slinging the ball the team should definitely be fun to watch.
The preseason for the Cleveland Browns opens Thursday (August 9) against his buddy from his college days Odell Beckham Jr., Saquon Barkley, and the New York Giants.