Eminem Regrets Homophobic Tyler, the Creator Diss, Says Secret Service Really Visited Him After Anti-Trump Freestyle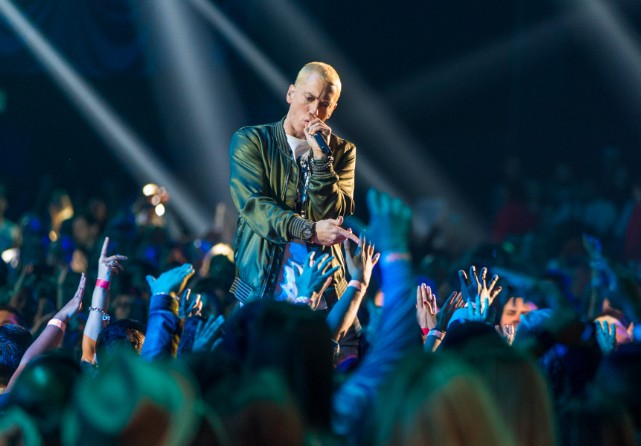 Eminem has apologized for some of the homophobic lyrics on his new album Kamikaze.
In a new multi-part interview with Sway, the rapper discussed "Fall," a Bon Iver-featured song on the album which attempts to diss Tyler the Creator using homophobic language. Em now says that the song and his use of the language was misguided.
"I think the word that I called him on that song was one of the things where I felt like this might be too far," he said, referring to a specific line in the song. "Because in my quest to hurt him, I realize that I was hurting a lot of other people by saying it…It was one of the things that I kept going back to and going 'I don't feel right with this.'"
Em said that the diss came in response to comments both Tyler the Creator and Earl Sweatshirt have made in interviews and on social media. "I was like, really? What the fuck," he said in reference to Twitter disses from Earl. "You guys were just on tour with us, we hung out, we kicked it, made jokes," he said.
The Detroit rapper also said that he was really visited by the Secret Service after releasing his BET Hip-Hop Awards diss aimed at Donald Trump. "They came to my studio, yeah," he confirmed. "They were basically just asking questions about my lyrics to see what the intent was behind them and if I was making an actual threat or just expressing myself."
Eminem's new album Kamikaze was released earlier this year featuring collaborations with Bon Iver, Little Dragon, Mike WiLL Made-It, Dr. Dre and more. The album, which marked the ninth No. 1 release for the rapper, has so far received videos for its songs "Fall" and "Lucky You." Watch the third part of his interview with Sway below.