Sacha Baron Cohen Returns as Borat to Canvass for GOP on 'Jimmy Kimmel Live!'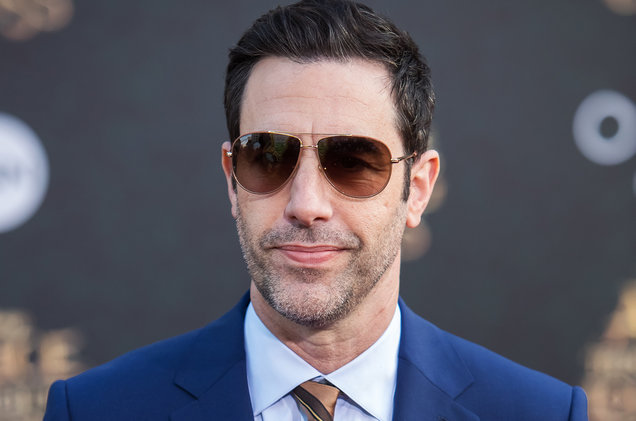 Sacha Baron Cohen reprised his Borat persona on Jimmy Kimmel Live! on Tuesday night to support President Trump at polling sites in a wealthy area in Los Angeles and discuss Trump's policies with the president's supporters.
After Cohen appeared on Live! on Tuesday in order to promote his controversial Showtime show Who Is America?, host Jimmy Kimmel explained that the show had commissioned Cohen's "friend" to go to a wealthy neighborhood and take the temperature of voters there on Trump.
"It's up to Kazakhstan to swing the election for Premier Trump," Cohen began his segment, in full khaki Borat regalia.
Borat began by canvassing for the GOP: A woman answered the first door he knocked on, which prompted the character to ask for the "man in the house." When the woman responded that only she was home, Borat asked, "Is there anyone in this house that can vote?" When she told him she could, he responded, "It's not againinst the law? Hm."
Over the course of the conversation, the woman proved to be a supporter of the Trump White House's controversial "zero-tolerance" policy that separated migrants who had entered the U.S. illegally from their parents. "It was like a camp-out," she told Borat. "[Trump] fed them three times a day like he did his own children." She called Trump a "humanitarian."
At another canvassing stop, a Trump supporter corrected Borat's use of the word "premier": "Well, it's President Trump," he said. Borat pressed the man on whether Trump is a racist, but the man maintained he wasn't. "I am a racist and it's nice," Cohen said. At the end of the sketch he asked to use the man's bathroom and came out wearing just a towel and brushing his teeth.
Borat subsequently went to a polling station: "It is good to see democracy in action. Not." Citing research that the majority of Jewish Americans vote Democrat, he laid bacon out on sidewalks and told an Orthodox man who passed by "You shall not pass." (The man paid him no heed.)
He asked one man outside a polling site if he voted "Republican or Jew" and then asked him a question about Melania Trump's genitals that the man refused to answer. After the sketch, Borat said, "Back to you now Jimmy, you little elitist, Hollywood-globalist Jew mouthpiece."
Cohen's 2006 film Borat! Cultural Learnings of America for Make Benefit Glorious Nation of Kazakhstan was one of three films based on characters from Cohen's Da Ali G Show, which aired on Channel Four in Britain and HBO in the States. Though Cohen retired the character after the initial Borat film, he revived him in 2015 on Live! in order to debut the trailer for Grimsby, in which he also starred.
Cohen has long been a critic of President Trump: "The only person who would ban Muslims is someone with a brain like a female chicken," he told Kimmel in 2015.
On Showtime's Who Is America?, Cohen tackled American identity in the post-Trump era by duping politicians and pundits across the aisle including Corey Lewandowski, the campaign manager for Trump's 2016 campaign, former Alabama Senate candidate Roy Moore, former Alabama Rep. Jason Spencer (who resigned after his controversial appearance), California Rep. Dana Rohrabacher and former U.S. vice president Dick Cheney.
Cohen was promoting Who Is America?, which debuted on DVD and on-demand on Tuesday.
This article originally appeared in THR.com.