21 Savage Attorney Disputes Gun Possession Leading to Arrest: 'He Was Targeted for Immigration Enforcement & Nothing More'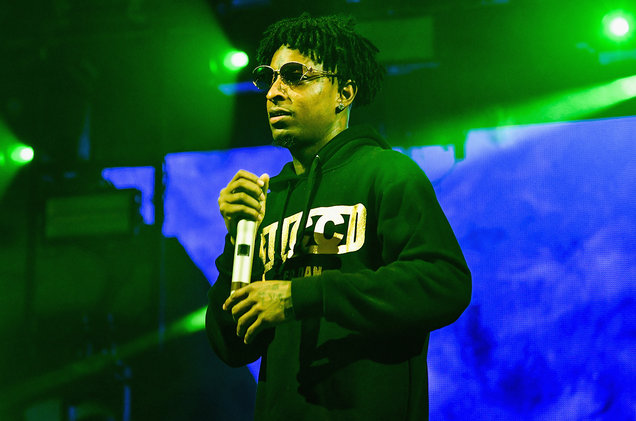 21 Savage remains in the custody of U.S. Immigrations and Customs Enforcement (ICE) following his arrest on Sunday.
TMZ obtained police reports Thursday (Feb. 7) claiming that 21 was in possession of a loaded glock while driving a red Dodge Challenger "recklessly," which ultimately led to him being handcuffed by ATF agents on the scene.
On Wednesday, Jay-Z and Roc Nation got involved by calling for the release of 21 Savage and added some legal muscle to the "A Lot" rapper's loaded team of attorneys with the addition of Alex Spiro. The Harvard graduate released a statement disputing the previous reports of 21's arrest, saying that the firearm and vehicle in question are not owned by Savage.
"ICE has confirmed he was targeted for immigration enforcement and nothing more," Spiro relayed to Billboard. "He was never arrested by the police, and some other individual's firearm and vehicle is not our concern here."
Another one of the rapper's attorneys, Brian Steel, made the same confirmations to TMZ regarding the Dodge Challenger and loaded weapon not being in 21's possession. TMZ's report went on to allege that the artist, born She'yaa Bin Abraham-Joseph, threw an unknown substance out the window and had another liquid in a styrofoam cup at the time of his arrest, both of which are being used as evidence against him. There is no mention of ICE's involvement in any of the police reports that were obtained.
Fellow ATL rapper Yung Nudy was reportedly the target of the operation. He was driving a separate car from Savage at the time, but cops reportedly believe people from all three cars involved are connected in some capacity.
Sources also informed Rolling Stone that the "Bank Account" artist is being held by ICE in Georgia's Irwin County Detention Center. The DeKalb County Sheriff's Office had no comment on the TMZ report. Billboard has reached out to ICE for further comment.