JOEY BADA$$ TALKS 'A.A.B.A,' 2PAC & MORE TO PHARRELL ON OTHERTONE RADIO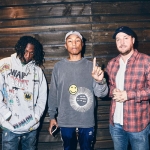 With his second album, ALL-AMERIKKKAN BADA$$, slated to arrive in the coming weeks (April 7th, to be exact), Joey Bada$$ caught up with Scott Vener and Pharrell on their Beats 1 radio show OTHERtone for a conversation.
During their time together, joZif spoke on executive producing A.A.B.A. (he kept everything in-house, save for a few beats from DJ Khalil and Pac Div's LIKE), as well as the politically-charged content throughout the project. Joey also discussed Tupac, and the effects his interviews had on Joey and Pharrell both.