Cment Boot Music Group: Creating New Sound Waves on the Music Scene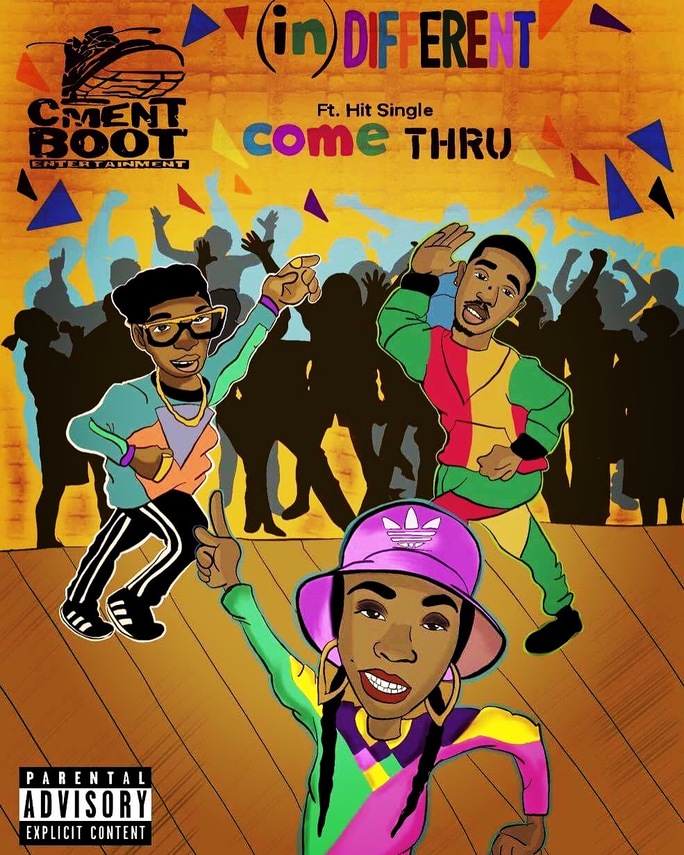 JACKSONVILLE, N.C. – If there's one thing that stands out about the hip-hop trio Cment Boot Music Group (CBMG), it's their unbridled joy of music.
It's an emotion that oozes out of them. You can't help but smile when you're around them, and when their music comes on, fans all over the world are learning that it's impossible to avoid tapping their feet and moving to the beat.
The group is made up of JJ Jones, Lambo Jones and Maryy Janeee – three tight-knit siblings who were born and bred in The Bronx, New York as direct descendants of hip-hop pioneer Sabu. Growing up, they watched their parents navigate the music industry – literally listening to their parents record music in the next room as they were trying to sleep. As a result, they were exposed to a wide variety of genres. This musical education paid off in spades as they developed a unique sound unlike anyone else.
Although the three do everything together today, their respective careers got started independently. JJ, the oldest, dove into music around the age of 12, when he helped to co-write "The Key" sung by his mother, Lavonna, also known as "LA." He began to understand the CBMG brand that his parents established and embraced it as a mantra of his own. His younger brother, Lambo, also developed a growing interest in music and discovered a natural ability to write amazing lyrics at a very young age. Maryy Janeee was the final piece to their puzzle. She received her first feature in 2000 on a song entitled "Hey" by 2K. While in school, she served as a fan and critic of her brothers' music until she graduated in 2011 and decided to take part in the family business. It was a seamless transition for the three of them to begin working together. Their first song was "I Just Wanna Fly," followed quickly by "Quarter Party." These singles preceded the release of the first album entitled, "K.I.M.S.A.M."
Since then, CBMG has released several mixtapes and have traveled to cities across the nation to perform their singles at various showcases, including: Coast2Coast Mixtapes in Atlanta, Georgia and Charlotte, NC; and South By Southwest in Austin, Texas, where they opened for Lil Pump.
Most recently, CBMG has captured their remarkable sound in their newest mixtape "(in)DIFFERENT." Filled with lyrical content, ranging from fun to conscious, coupled with mixed melodies, the mixtape can capture any ear. Kicking off with the party track "Everywhere (100)" and ending with the cool nostalgia of "Reminiscent," the mixtape can fulfill any listener's style.
"It's seven tracks that are exactly what the title says," Lambo said. "We're not worried about what anyone else is doing. We're just doing our own thing, regardless of what's popular. It's genuine to us. It's very unique, eclectic and indifferent."
And when it comes to the meaning behind their name, the reason lives up to their distinct perspectives.
"Think about it," JJ said. "If you stomp with cement boots, it will break the concrete and make a loud noise. That's what we came to do. Nobody can move us. We're firmly planted in our own lane and we're here to stay."
Although CBMG is founded on the individuality of their message, they embody the idea that there is harmony in diversity.
"We have our own styles, but we still come together with a similar message," Lambo said. "We try to paint the picture of where we're from and how far we've come. But more than that, it's all about family. We move as a unit. Outside of the studio, my brother and sister get on my damn nerves, but I love them to death. We go through ups and downs like every other family – we laugh and joke and do things for each other."
"Our music is about putting out positive vibes, having fun, and living life," Maryy Janeee said.
"But now we want to show the world where we can take hip-hop," JJ added. "We come from a newer age but we still respect the roots of hip-hop. We want to pay homage to that in our music while staying true to ourselves, which we believe we've recaptured with '(in)DIFFERENT.'"
Listen to CBMG's music and follow them on social media at the following links:
UPCOMING 100
01

Swalla

Jason Derulo Featuring Nicki Minaj & Ty Dolla $ign

02

Chained to the Rhythm

Katy Perry

03

04

05