Seattle Rapper and Producer Tarii Releases Full Mixtape Titled "Deep Sea"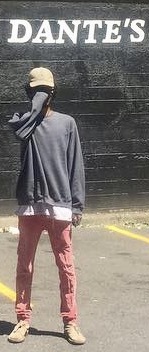 LOS ANGELES, CA – Tarii may call Seattle home, but he might as well say the same for the recording studio.
The talented rapper came upon his love for music like it was fate. He soon found himself surrounded by a group of people who shared the same passion, which is when he truly started "jamming and making music", as he puts it. Tarii realized how deeply he enjoyed making his own beats from the creative ideas he came up with so effortlessly. Quickly, he came to discover his musical journey would be the ride of a lifetime.
The creative juices continued to flow, and Tarii started perfecting his musical abilities. Much to his appreciation, the rapper started raking in more listens. "I always try to make the best ideas I can come up with," said Tarii. "I just love making ideas, you know, it's how I make music." When asked where he finds his inspiration to create music, he reflects back on his own life experiences. The artist often throws thoughts into the air, and whatever sticks has seemed to work thus far. Tarii values his unique, artistic expression, as it resembles everything that makes him who he is.
The Seattle based rapper has been busy packaging up his latest project, as he gets ready for the finishing touches. Though he is capable of mastering his own work, Tarii is always open to collaboration with other industry pros. "My friend Reno and I produce as well as mix and master everything. For this project, I'd like to get someone else to master it. We have a cohesive idea of trying to explore as many sounds as possible," said Tarii. His latest mixtape, Deep Sea, features his original sound and production quality that he is known for. The artist is committed to putting in the work to really see what he's capable of, but still "letting it play out all together".
Looking ahead, Tarii plans to blaze through the music world, as he gives everything 110% effort. Live shows are definitely on the horizon, which is something the artist is currently working toward. "I feel like, because I take my time with things, I'm just a weirdo with this type of stuff. I'll sit on these ideas, and sometimes I'm just all over the place. You'll see what I mean when you hear my music. I'm cohesively all over the place," said Tarii. His intense, industrial vibes and sound are a true testament to this. No matter what, the one-of-a-kind artist is built for success, as he utilizes his original ideas to do 10 times more than his last work.
To stay up to date with Tarii, follow him on his social media sites below:
https://www.reverbnation.com/tarii3/song/27930980-inzoneren0
https://www.reverbnation.com/tarii3?profile_view_source=header_icon_nav
UPCOMING 100
01

Swalla

Jason Derulo Featuring Nicki Minaj & Ty Dolla $ign

02

Chained to the Rhythm

Katy Perry

03

04

05