Ohio-Based Hip-Hop Group Two Twin Exhibits Shades Of ASAP Mob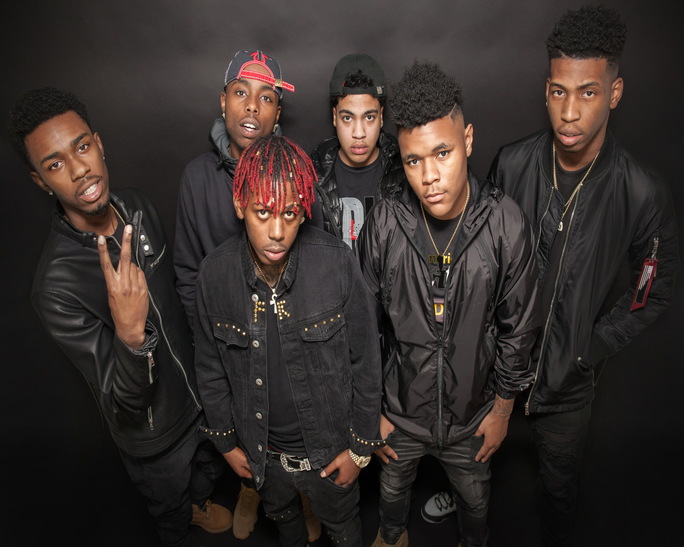 CLEVELAND, OH – Two Twin is a creative music group made up of six friends from the "Steel City" of Lorain, Ohio – 25 miles west of Cleveland.
Their unique sound and style is reminiscent of the ASAP Mob's, and their hot new vibe is ready to be put on display with their debut mixtape, "Twin Lyfe."
The six members of the group include Rossi, Peso, Bucks, Mitch, Rico and Natti. According to their manager, Ali Kidd, the six have been friends for more than a decade and grew up together in the same neighborhood. Most of them went to school together and when they weren't playing sports together or just hanging out, they were often playing or performing music.
"A lot of people hear their name and think they're twins, but none of them are actually twins," Kidd said. "They're from a neighborhood that's on 22nd Street and Beach Avenue (one of the city's most crime- and drug-infested areas), and that's why they call themselves Two Twins. They've been around each other forever – playing basketball and rapping all the time. Toward the end of 2015 they decided to make a group after all of them had tried rapping individually for awhile. They figured that since they were already always around each other, they might as well try something. They're truly unique."
The six are all close in age to one another – ranging from 19-to-22. After losing many close friends to death and jail, the group decided to be voices of inspiration for their generation and neighborhood. Their desire is to bring hope and motivation to anyone who hears their music, by sharing and expressing their lives and struggles through the songs that they write and perform. The group says that their biggest inspirations come from one another and the city where they are from because no one made it out.
Since forming the group in late 2015, they've released a handful of singles on YouTube and Soundcloud – including "Slow Feet" and "2s," which have combined to reach more than 100,000 views and plays. The group has also worked with a couple of notable names from the Cleveland area – such as Ray Jr., Lil Cray and Q Money.
Their new mixtape, "Twin Lyfe," will feature 18 songs highlighting each of the members of the group. Though another mixtape is soon to follow later this summer and will showcase some featured artists from the area, this mixtape is all original material from the group and shines a light on their own unique gifts, talents and abilities. According to Kidd, the best part of the mixtape is the versatility and "heart-felt music that people can be inspired by."
"Twin Lyfe" is being released under the label The Consortium Entertainment (TCE) and is available on iTunes, Spotify, and all other music sharing platforms.
To listen to Two Twin's music or to follow them on social media, please visit:
https://youtu.be/R2nmv9X-eu4
https://itunes.apple.com/us/album/i-gotta-get-it/1330728022?i=1330728089
https://open.spotify.com/track/3cxRIYIkSNDpSGsiPyCmiP?si=x-Odg9YIR8OF7T3RSIqfkA
https://twitter.com/2twinglobal
https://twitter.com/2twinmitch (Mitch)
https://twitter.com/twinshxt_20 (Rossi)
https://twitter.com/2twinbuckz (Buckz)
https://twitter.com/2twinrico_ (Rico)
https://twitter.com/2twin_peso (Peso)
https://twitter.com/2twinnatti (Natti)
UPCOMING 100
01

Swalla

Jason Derulo Featuring Nicki Minaj & Ty Dolla $ign

02

Chained to the Rhythm

Katy Perry

03

04

05