Marvilus Brown Jr. Hypes Up the World with New Single 'Dominate'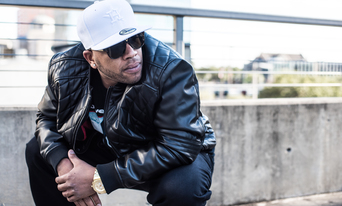 HOUSTON, TX – Businessman. Musician. Philanthropist …
Marvilus Marvin Brown Jr. is the total package. This Houston-based artist is a voice in the industry that needs to be heard, and his influence is spreading wider and wider as he continues to pursue a career that will motivate others to chase their dreams. His 14 years in the music and entertainment business have seen him ride the ups and downs of success – including more than 50,000 albums sold in 2014. And now he's ready to dominate the industry again with his newest single, "Dominate."
The single is a self-described "comeback project," that he says will serve as a statement to the world that though he's taken a bit of a hiatus over the past couple of years, he's back and better than ever.
"I've been releasing albums since 2010, and I had a good start but somewhere in the middle the business caught up to me and I wasn't able to release a second project as widely as I wanted to," he said. "This is my third project, and 'Dominate' is about coming back to dominate the industry. I'm looking to make a whale splash with my sound and old-school style. I have a look that's unique. I have a few things to say within my music. And this song wraps all of those things up into a vibe that will get you hyped up. It's like something a basketball team would play before a championship game."
What started as an independent career eventually grew into something that caught the attention of some bigger labels, and in 2004 Marvilus moved to Los Angeles to work with William "Mickey" Stevenson, former vice president at Motown Records. He learned the business and started gaining some traction and a growing fanbase. His debut album "The President" sold more than 50,000 units. But his sophomore effort was shelved before it could be widely distributed. Discouraged, Marvilus returned to Houston and looked into other entertainment avenues. He found himself in video and film production, and was fortunate to produce a music video pilot show for Tiffany Haddish called "Malibu Countdown." This experience gave him a real taste of the wider entertainment industry beyond music, and re-awakened his passion to leave a mark on the world by using his voice to influence others.
"I'm not trying to be someone who is too political or anything like that," he said. "I want to give people a vision into why things are the way they are. Think outside the box. Understand that you can be many things. Even though I'm a rapper, I also own a moving business. At the end of the day you have to maximize your full potential and use everything you've been gifted with. If God gifted you with something and put a message in your heart, act on it – just act on your ideas and you'll be successful. We all have great ideas, and money isn't what's stopping you from realizing those things. It's you telling yourself, 'No.' I want to be a big brother of the business. I know I still have a lot to learn, but there are quite a few things I know about being an entrepreneur and this music industry, and I want to use that to help other people realize that they're fully capable of more than just average. I'm living proof of that."
"Dominate" is currently available across all digital distribution sites. It's the first single off the upcoming album "Destiny," which is slated for a release in March. To listen to Marvilus' music or to follow him on social media, please visit:
https://www.facebook.com/MarvilusBrownJr/
https://twitter.com/MarvilusMusic
https://www.instagram.com/marvilus_brown/
UPCOMING 100
01

Swalla

Jason Derulo Featuring Nicki Minaj & Ty Dolla $ign

02

Chained to the Rhythm

Katy Perry

03

04

05